Apple iPad
Despite being in the middle of a very large update to the design of my website, and amongst the hectic schedule I have on my plate, I took a short while out to sit up and take note of the latest KeyNote from Apple with regards to the iPad.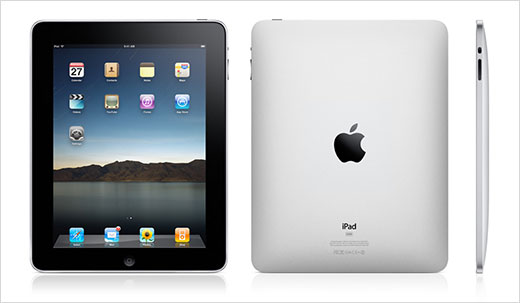 We had a discussion in the office today that if this latest offering from Apple was not something entirely new, then it would not much more than a doorstop.
I have to admit, the whole presentation left me a little less than impressed. The glorified iPhone/iTouch is exactly as expected. Nothing more than a spec'd up hand held device. It started with so much potential, then just mountain slid to a big disappointment.
Don't get me wrong, I am an avid Apple fan, my wife will be the first to proclaim that one. But this just seems too much of a money making idea from Apple, as to how they can gain more money from their App Store. Some features I think that they missed from this are:
The ability to use an optional pressure-sensitive stylus, and handwriting recognition.
A front-mounted camera. Though guaranteed future versions will have.
Native os X application support. It seems a little ridiculous to limit the applications to just those available on the iPhone and iPod Touch.
USB support. The ability to plug in certain types of external devices (audio/video, headsets, external HD) would be peachy.
The ability to run more than one application at a time. Seriously, Apple needs to figure this out.
As for the price for UK and Europe, we are yet to see if Apple offer us a similar price, with current exchange rates would mean the iPad works out around £300, but I bet Apple will add a premium for us unluckily enough to not live in the US.
It looks like an interesting device, and I would love to have a play with one, but currently I am not sold, my MacBook does all I want and more, this ones for the new generation maybe.
Posted On: Wednesday, January 27th, 2010 @ 7:17 pm by Ian Tearle
---
There are no comments on this entry. You should add one below.