Help Haiti Earthquake Victims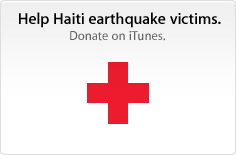 In response to this week's devastating earthquake in Haiti, Apple has begun accepting monetary donations for the American Red Cross directly through iTunes. According to the donation page, 100% of the donation will go to the Red Cross to support emergency relief efforts to help those affected by the earthquake. Due to iTunes not sharing user information with the organization, the Red Cross will be unable to further acknowledge any donations made, and an email receipt will serve as the only record of the donation. Donate buttons are available in denominations of £5, £10, £25, £50, £75, and £100; Apple has also posted a direct link to the iTunes donation page on its company homepage at apple.com.
Posted On: Thursday, January 21st, 2010 @ 7:17 pm by Ian Tearle
---
There are no comments on this entry. You should add one below.