New Adventures
The title of this post means a lot to me this year, not only is this a very long awaited write up of New Adventures conference, (my notes from 2012 are still sitting in iCloud), but on a personal level I am starting a new adventure this year in my career, (2013) and my aim for the next 12 months is to write, produce, and make more.
I had the very good pleasure of being able to attend the final instalment of this very favoured conference. Already armed with renewed vigour of the industry I set off up to Nottingham with little expectation other than to listen to some great advice from top industry experts. I was not disappointed.
From insights into how the legendary Jason Santa Maria works to the rather comical but inspiring Seb Lee-Delisle I took away much as I believe most other attendees did, I am going in the right direction. I believe the web industry has caught up with itself, much as the speakers themselves were in agreement with each other, the audience were right there with them, and in some cases becoming the next New Adventure themselves.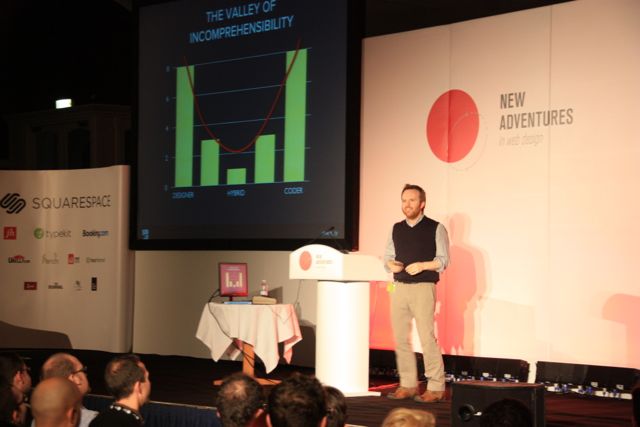 This all affirms my decisions for changing jobs at the beginning of this year, there was a real underlining statement of "just put it out there" - we are all professionals, and we all have our own skills, much like how Wayne Hemingway seemingly has had it all - it all boils down to being in places at the right time, communication skills, and hitting the high notes at the right time. None of us can achieve that if we do not make a noise on the web in the first place by putting our work online for public consumption.
Last year, and at other conferences I have attended I have come away with ideas for the future, clear challenges laid out in front of me.
This year at New Adventures was different. I felt challenged but not in the way I expected, I had long thought the web industry has needed to breach the borders of graphic design and traditional print media, after all it is those industries that are trying their hardest (often not getting it totally right) at web design with no knowledge or experience with the ever changing "responsive" web. I feel it is now; that we have matured and grown, and caught up with where web design (and development) has been going; that we should be passing our knowledge onto others. We are now the teachers just as most of the speakers have been to us. I was inspired by Tiago Pedras' talk on how he has or I feel will change how web design is taught in today's schools and colleges, radical thinking that can only be born from our industry.
Therefore in the words of Jessica Hische, its is time to go and Procrastiwork. Get on with those personal projects, finish them. Publish them.
Posted On: Wednesday, January 30th, 2013 @ 11:53 am by Ian Tearle
---
There are no comments on this entry. You should add one below.