Twitelection Goes Live
Something I have been working on the design for, recently, goes live to the masses of UK Twitter users out there. Twitelection aims to give Twitter a voice in opinion to the political parties.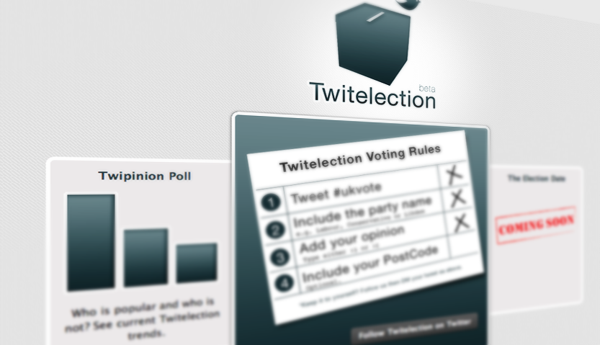 Designed in the office, (Free Rein/140 Digital), I wanted a smart sophisticated look to represent a somewhat adult topic. The project aims to give Twitter a voice to the political parties in the UK and is a mash up of technologies using the Twitter API. Twitelection searches twitter for the #ukvote hash tag and takes some key variables to build up the opinion poll running live on the website. Simply tweet the following to take part.
#ukvote PARTY NAME :) or :( for your opinion or current feeling about the party, and the first part of your postcode, this is optional and will help with some statistics around the UK.
e.g.
<code>#ukvote Conservative :) IP1</code>
Of course you can put any other information you like in your tweet about why you are happy, or disgruntled with your particular party.
Enjoy and remember to vote in the coming elections, when they finally come round!
Posted On: Tuesday, February 16th, 2010 @ 7:19 pm by Ian Tearle
---
There are no comments on this entry. You should add one below.